There's a nice writeup on five kid and cargo carriers at Treehugger today. They looked at the Yuba Mundo (v. 3.0), Taga trike / stroller, Stokemonkey + Xtracycle, Bakfiets, and one handmade bike — the ShuttleBug from Joe Bike in Portland, OR.
After you've read the Treehugger article, come back here to see a few other options you may not have heard of!
Rans Hammer Truck
Rans, known for their recumbents and 'crank forward' upright bikes, introduced the HammerTruck cargo bike at Interbike 2008. The HammerTruck is the Rans unique take on longtail cargo bike. The 35 lb bike can carry up to 500 lbs of rider and cargo, with huge bags to carry cargo and optional running boards to support the weight. TIG welded 4130 CroMoly frame builds up to a 35 lb bike that handles nicely, even when fully loaded. MSRP $1995.
Bullit Truck Bike
I saw this one in San Francisco.
Bullits are "fast cargo bikes" by Larry & Harry in Copenhagen. Mikael of Copenhagenize likes to pop wheelies with these guys. Buy online, or USA dealers in Ann Arbor, Chicago, Portland OR, and Columbus OH. Prices range from €1800 (about US$2400) and up (way up), with around €500 (US$700) charged for shipping to the USA.
Zigo Leader
For a child carrying trike that converts to a stroller, I'm a fan of the Zigo Leader. It folds, converts quickly to a jog stroller, and also converts quickly to a regular two wheel bicycle.
Frances Small Haul
For handbuilt truck bikes, I like the Small Haul from Frances Cycles in Santa Cruz, CA. Josh (the builder behind Frances) uses that truck bike for loaded touring and brings his dog along on rides up into the Santa Cruz mountains. Josh, incidentally, is also the driving force behind the Santa Cruz Bike Church.
Brown Cycles KidzTandem
I've rhapsodized previously on Chris Brown's KidzTandem. Did you know you can take that front saddle off and pop a basket in its place?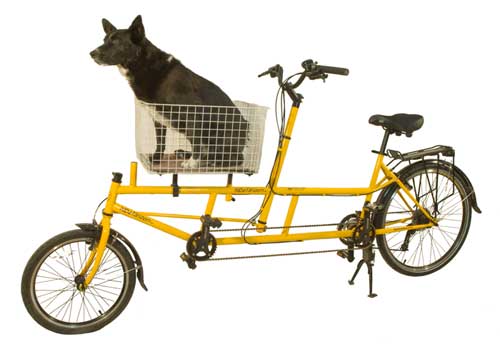 What are your favorite cargo and kid carrying bikes?